Can't remember when I wrote Magic Hat asking for an elephant, but it wasn't terribly long ago to wait for a fine elephant reply, and this certainly was one of them. Got a really nice note including that they had a few variations on the elephant for my perusal and the one above was probably the best in terms of artistically inclined. I think if I ever start drawing things I'm going to put those lines in after the fact so it seems like whatever chaos I spewed onto the paper was mathematical or there was some rationale behind it. Very good elephant.
Ummm not sure what this guy is but this is exactly what I should get more of but I assume that places draw this and then don't send it and that's why I only get 20% of my letters back as elephants.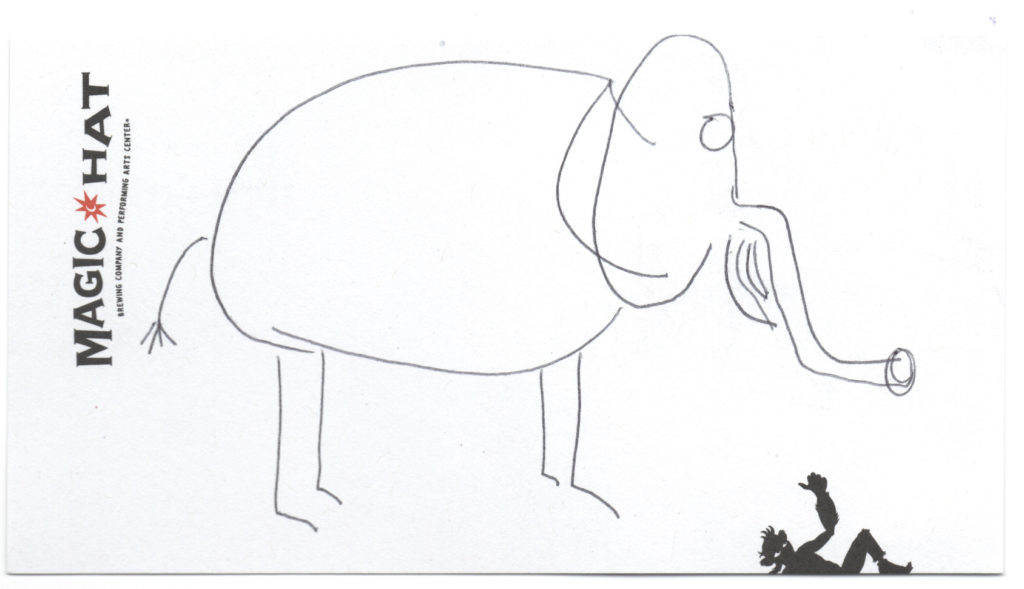 I really like this one and I think this really embodies about how good I expect a drawing to be. This is a totally passable elephant to me and also uses some stuff that is specific to the brewery to do so, just perfect. I'm not going to elephant shame and if it ever seems like it is that is purely in fun and I have not once tried to draw an elephant.
Do she got booty? She do!
Holy heck is this elephant thicc! I got a bunch of elephants from Outer Light and the booty ones were the most popular from those I spoke with that saw them. Maybe it is just that butt people are more vocal with it and the other elephants have more subtle charms that one would not be as vocal about. I'm on team big booty so when I saw the elephant balancing a pint glass on it's pachyderm posterior I was what we in the business would call "bout it bout it". The lettering and the touches with the logo stylized were a huge plus.
Magic Hat was pretty nice
Kind of had some really low expectations from Magic Hat since I always thought they were an InBev brewery, but it turns out some other place owns them. Tried to give them a call to thank them but ended up in voicemail. The dial by name directory was not working and that's no big deal. I've had my own phone extension for 15 years and checked voicemail maybe 10 times and that was mostly when it was new or when getting phone systems. I once checked my voicemail and I had like 34 voicemails from Catherine who worked lunch a half an hour different from me to cover the phones while everyone else took their normal lunch. Almost every voicemail was to inform me that I have an email also from her. She was a sweet woman and that was one of those moments you cherish old people. She never understood it when I'd print out an email and scan it to her to have her print it and fax it somewhere and that's okay. So the dial by name wasn't good for Magic hat and it is a shame because if it was 666 would have got me MON and we would have been good to go. Oh that reminds me that someone may like the letter portion, which was awesome. Monica knocked it out of the ballpark.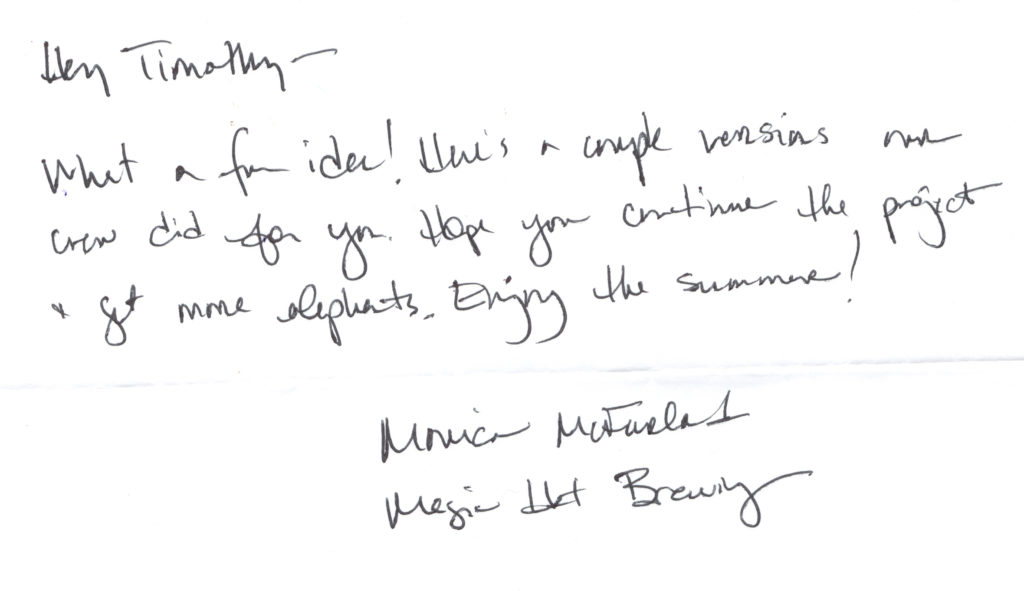 She is about the fifth person who has sent a letter that said this was a fun idea, which I think makes it officially true, so if other breweries are reading this far they should take note if they are thinking this is a really stupid idea and you don't want to draw me an elephant because it is dumb and a waste of time. I'm mainly saying take note because this is pretty long and rambling already so if you're this far in the gristle of an article you've already dun wasted enough time to draw an elephant as good as the second one foo.
It was a good and quick note. I'm not sure if the thing about the Summer was thinking I'm a kid or student or just a general wish about having a good Summer as that is a nice greeting that humans would use to indicate that they just said something nice before the letter is over, much like the "Warm regards" that I finish letters off with to also indicate that I, too, am a human. I was actually thinking about posting a bit more about me as a person at some point but I'm not great at genuflecting, I don't think hardly anyone would care, it probably wouldn't benefit my elephant return rate, and I'd most certainly exaggerate how tough and big my pectoral muscles are to my advantage.